List of the cities in Thessaly which issued coins in ancient times and a collection of coins from the area
https://www.youtube.com/watch?v=7rjIAgU3coI
The goal of this guide is to share the information about the types of ancient Greek coins that were struck by the Greek towns of the area in central Greece known as Thessaly. With the list you can see below, you can use to search my store by clicking on the term, or printed out as a check-list to help you put together a coin collection from the area. With the video and the list of coins along with pictures and descriptions of them, you too, can become an expert in these types of coins. Some of the cities just issued bronze coins, others issued gold silver and bronze types. The most comprehensive book on the subject is Handbook of Ancient Greek Coins Volume 4 by Oliver D. Hoover. The other book to get is the
Volume I
and
Volume II
of Ancient Greek Coins and Their Values by David R. Sear. You can also see pictures and descriptions of coins from Thessaly for research purposes
at this research site
, by scrolling to the section on Thessaly with much information about the coin types. The most prominent town of ancient Thessaly was Larissa, which minted some of the most prolific coin types of that area. Many of the city's coins featured a nymph and a horse. Many of the coins of ancient Thessaly featured horses. Thessaly issued coins into the Roman times, and the types are known as Greek Imperial/ Roman Provincial. Coins discussed in this video include those of Augustus, Claudius and Gallienus.
---
---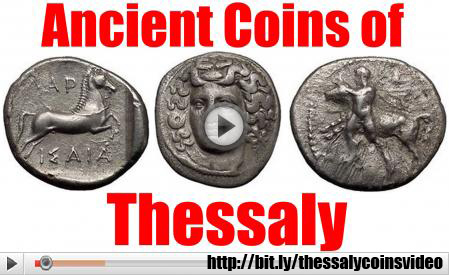 Guide to Ancient Greek Coins of Thessaly Central Greece and Collection for Sale by Expert on eBay
---

Download this article by right-clicking here and selecting save as
Article by Ilya Zlobin, world-renowned expert numismatist, enthusiast, author and dealer in authentic ancient Greek, ancient Roman, ancient Byzantine coins and beyond.
For more great articles and videos on ancient coins, visit, http://www.trustedancientcoins.com/articles/
---
Find It Here: Thessaly Central Greece ANCIENT GREEK COIN Collecting Guide Fascinating blog post about ancient coin collecting. An expert numismatist posted this to educate people.
from Trusted Ancient Coins - Feed http://www.trustedancientcoins.com/thessaly-greece-guide/amp/
via http://www.trustedancientcoins.com