Article and Video exploring the types of coins of Julius Caesar and Related Available for Sale on eBay
https://www.youtube.com/watch?v=3PRLeOPoPaE
One of the most important personages in history, known world-wide, Julius Caesar even had portrait coins minted during his life and long after. This article shows a lot of different examples of ancient coins, which can be seen in the video
exploring Julius Caesar coins
. Clicking on the pictures below searches my
eBay ancient coin store
for the Julius Caesar keyword. The goal of this guide is to familiarize new collectors and people that consider this as an alternative investment with the types of ancient coins of Julius Caesar available. For silver coins of Julius Caesar and related, I recommend
Roman Silver Coins Volume 1 by David R. Sear
. See all the types of ancient Julius Caesar coins you can purchase with the following links:
See also:
Julius Caesar Lifetime Portrait Coin
Last year, I went on the Pawn Stars History Channel TV show with this exact coin. Here is my video of the coin with the story behind it. The episode came out earlier this year, and is entitled "Rick the Emperor". This made this coin ostensibly the most famous Julius Caesar coin in the world.
Even though this specific item has since sold, I have come across another lifetime Julius Caesar portrait coin. See it here → JULIUS CAESAR Lifetime 44BC Portrait Ancient Silver Roman Coin Venus NGC i58211
---
Julius Caesar Elephant Coin
---
Julius Caesar Ceres Coin
---
JULIUS CAESAR & AUGUSTUS Dupondius Sestertius 38BC Ancient Roman Coin
---
AUGUSTUS victory over BRUTUS CASSIUS assassins of Julius Caesar Roman Coin
---
MARK ANTONY reconciles Ahenobarbus 40BC Silver Roman Republic Coin Galley
---
---
---

Download this article by right-clicking here and selecting save as
Article by Ilya Zlobin, world-renowned expert numismatist, enthusiast, author and dealer in authentic ancient Greek, ancient Roman, ancient Byzantine coins and beyond.
For more great articles and videos on ancient coins, visit, http://www.trustedancientcoins.com/articles/ or Click here to see all of my EDUCATIONAL COIN VIDEOS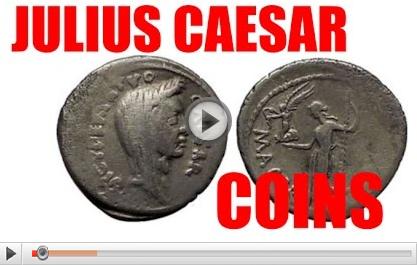 https://www.youtube.com/watch?v=3PRLeOPoPaE
Read Full Article Here: JULIUS CAESAR Ancient Silver Roman Coins & Coins Related for Sale on eBay by Expert Fascinating blog post pertaining to collecting old coins. World-renowned numismatic expert created this to teach.
from Trusted Ancient Coins - Feed http://www.trustedancientcoins.com/julius-caesar-roman-coins/amp/
via http://www.trustedancientcoins.com