View All the Videos About Ancient Coins Talking About Various Topics of Interest in Ancient Coins
Click here to watch all the educational videos about coins
This is my collection of my entire works that I have done up to this point in regards to presenting ancient Greek, Roman and Byzantine coins on video and explaining the historical context they have come from. This is an amazing way to feel the amazing history almost in your hands that may spark your interest in the various topics covered. It would be a great idea to
save this article in PDF format
with the link at the bottom of this post.
These videos are arranged in a YouTube playlist and when you go there you will be able to choose which videos would interest you, or you can let the whole entire series play one after another after another. This is a great almost "hands-on" way to learn the various topics covered in ancient coin collecting. Click here to start watching the collection. There are also links below the video that take you to an article for the video you are watching.
See Also:
---
---

Download this article by right-clicking here and selecting save as
Article by Ilya Zlobin, world-renowned expert numismatist, enthusiast, author and dealer in authentic ancient Greek, ancient Roman, ancient Byzantine coins and beyond.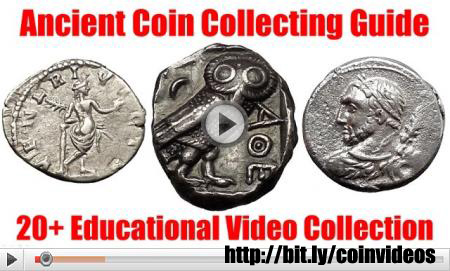 https://www.youtube.com/watch?v=_OghpYB823Q
Post Source Here: Ancient Coin Collecting GUIDES Educational VIDEO ARTICLE Collection Fascinating video pertaining to collecting old coins. World-renowned numismatic expert posted this for educational purposes.
from Trusted Ancient Coins - Feed http://www.trustedancientcoins.com/educational-collecting-videos/amp/
via http://www.trustedancientcoins.com